Sergio Aguero is arguably one of the greatest strikers that has ever performed in the Premier League in the past 20 years and some recent rumors were claiming that Pep Guardiola was thinking about offloading Aguero or to start dropping him to the sidelines.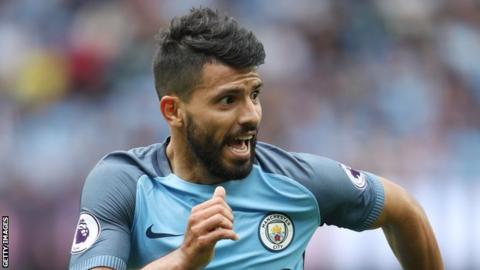 Its an extremely difficult rumor to believe considering that the Argentine attacker was a hugely influential player for Manchester City ever since he joined back on July of 2011 and in his debut season, he managed to score over 20 goals and the Argentine attacker still continues to score a healthy amount of goals on a consistent basis in every single season.
In almost every single season that Sergio Aguero has performed in, he has managed to either become the top goal-scorer or finish closely behind in the 2nd spot of scorers for Manchester City.
One of the main reasons of why Pep Guardiola was brought to Manchester City was to start winning major titles including the Premier League which they have not lifted since the season of 2001-02 and in order for this to happen, Sergio Aguero will probably play a huge role and this is why the rumors of Pep Guardiola dropping or offloading the Argentine player were and continue to be extraordinarily unlikely.
The main reasons of why these rumors have been emerging is due to the fact that Sergio Aguero was dropped to the sidelines during Manchester City's recent Champions League match against Barcelona but it was later revealed by Pep Guardiola that the only reason why the Argentine superstar was not given playing time because of tactical reasons and nothing more.
"I want to be clear again. I am so happy with Sergio and hopefully he can stay for a long time here. I want from deep in my heart he can stay here and play with us. He is a special player; he is a striker who scores millions of goals in his career. I know for strikers it depends on the moment, but we cannot forget how many goals he scores for us." Manchester City's Pep Guardiola said as he voiced his reason as to why Aguero did not play against Barcelona in the Champions League.